Looking for books on improving communication and pitching? This is it, a guide covering the best books for pitching in the known universe (yeah, Martians are good at that too)
In general better communication skills and improved pitching is fundamental to any aspect of life. Business is no exception.
If you're looking to improve your cold call script, or just modify your Linkedin Outreach scenario, you need to dive into the pages of the sales and communications masters listed below.
Sure, it might look as if some of these books are not specific to Linkedin or cold calls but the lessons within them, will apply in ANY scenario or message you send to your potential client.
Here is a list of the top 10 best sales books every person on the planet should read – these books are classics and can help make you a better communicator and improve your pitch.
10 Best Books For Pitching
Pitch Anything: An Innovative Method for Presenting, Persuading, and Winning the Deal by Oren Klaff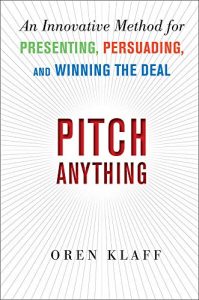 Delivering a sales pitch is one of the most vital components in the selling process. Depending on how well you've mastered this craft, you can either make or break a deal. In this book, Oren Klaff describes his one-of-a-kind method for delivering winning pitches for any business situation. Whether you deliver pitches to investors, clients, or even your boss, this book is a must-have.
To Sell Is Human: The Surprising Truth About Moving Others by Daniel H. Pink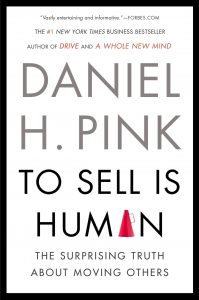 Most people have a very negative view of selling. They use words like "slimy", "sleazy", and "spammy" to describe the selling process. Pink disagrees. "To sell well is to convince someone else to part with resources — not to deprive that person, but to leave him better off in the end.
"The purpose of a pitch isn't necessarily to move others immediately to adopt your idea. The purpose is to offer something so compelling that it begins a conversation, brings the other person in as a participant, and eventually arrives at an outcome that appeals to both of you."
Communication Skills: A Practical Guide to Improving Your Social Intelligence, Presentation, Persuasion and Public Speaking by Ian Tuhovsky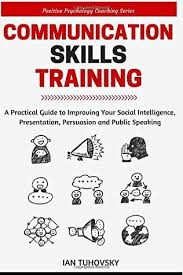 Have you ever considered how many times you intuitively felt that maybe you lost something important or crucial, simply because you unwittingly said or did something which put somebody off? Perhaps it was an unfortunate word, wrong formulation, inappropriate joke, forgotten name, huge misinterpretation, an awkward conversation, or a strange tone of your voice?
If you don't know how to communicate correctly, you're going to have problems in business. This book will help you improve your social intelligence, persuasion, and communication skills, and give you the tools you need to convince others you're the right person for the job.
Social Media: Marketing Strategies for Rapid Growth Using: Facebook, Twitter, Instagram, LinkedIn, Pinterest, and YouTube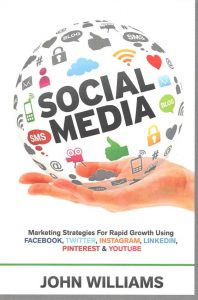 In today's digital landscape, a list of the industry works without mention of social media would be missing a significant piece of the puzzle. Williams tells readers how to grow a supportive following across social networks and strategies for telling brand stories in a way that engages audiences, making it one of our favorite books on public relations.
The Art of the Pitch by Peter Coughter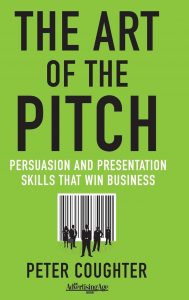 The thought of making an elevator pitch is scary for many people. While you may never enter a high-pressure situation exactly like that in your career, there will almost always be times where you need to "sell" an idea—even if it's a good one.
This book makes some astute and very level-headed observations on what elements really make up a successful pitch. You don't need to be a startup founder about to pitch to an angel to make a sale, but if you are, definitely pick up this book and then watch this spoof video to calm your nerves.
Pitch Perfect: Say it Right the First Time, Every Time by Bill McGowan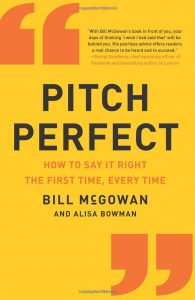 Saying the wrong thing at the wrong time has consequences. We may lose the opportunity for a raise. We may bomb the interview and not get the job. We may do permanent and irreparable damage to a relationship. The words we use and how we choose to say them are imperative. Bill McGowan sets out to teach you how to say the right thing in every situation, ensuring that you say it right on the first try.
Stop Talking, Start Communicating: Counterintuitive Secrets to Success in Business and Life, with a foreword by Martha Mendoza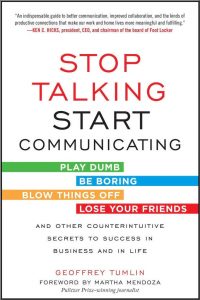 Not exactly what you'd expect to hear from a communication expert, but these counterintuitive strategies are precisely what we need to interact productively and meaningfully in today's digital world. Our over-reliance on quick, cheap, and easy means of "staying connected" is eroding our communication skills.
Speed steamrolls thoughtfulness; self-expression trumps restraint. Errors and misunderstandings increase. And our relationships suffer. With startling insights and a dash of humor, Stop Talking, Start Communicating combines scientific research with real-world strategies to deliver a proven approach to more effective communication.
How to Win Friends and Influence People by Dale Carnegie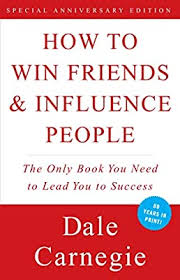 Every entrepreneur knows that the key to a good business is a good sales technique. Not only do you have to sell your product, but you also have to sell yourself and your idea. Having a great product doesn't do anything if you don't know how to approach the person and make them fall in love with you and the product.
This book by Dale Carnegie gives you valuable information and strategies about how to make more sales by focusing on one thing – the person. Sometimes entrepreneurs forget the basics of selling and jump right over to get results, but to get results, you need to know the basics.
The Startup Game: Inside the Partnership between Venture Capitalists and Entrepreneurs Paperback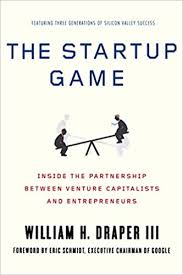 For more than 40 years, venture capitalist Bill Draper has worked with top entrepreneurs in fabled Silicon Valley, where today's vision is made into tomorrow's reality. From the VC who saw the value in Skype, Zappos, and many other companies, comes first-hand stories of success.
In these pages, Draper explores: how to evaluate innovative ideas and the entrepreneurs behind those ideas (lessons from Yahoo, Baidu, Tesla Motors, Activision, Measurex, and more); and the value of political leadership in creating opportunity, including on-the-ground accounts of how Deng Xiaoping brought China roaring into the modern world.
Brilliant Pitch: What to Know, Do and Say to Make the Perfect Pitch (Brilliant Business)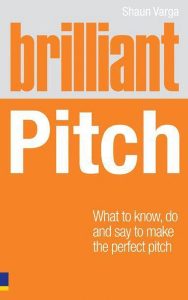 The pitch is the torture-test of any kind of selling. It's when you absolutely, definitely, have to get it right – and get a result.
Brilliant Pitch unpacks the key elements of any pitch process and shows how different situations require different approaches. Packed with advice from experts, trade secrets, and tried-and-tested ways of approaching any pitch and any audience, this is the ultimate guide to pitching.
What people thought:
'Shaun Varga skillfully deals with numerous potential obstacles entrepreneurs will encounter when pitching to investors- especially in the early stages. I have pitched hundreds of investors for different businesses and ideas over the years and I wish I'd had some Brilliant Pitch advice back then.' – James H. Fitzgerald, President of ChainStar Global LLC
'Brilliant Pitch is packed with valuable advice. Shaun expertly takes the mystery out of making a great pitch.' – Ivor Catto, CEO Hyder Consulting plc.
10 Best Books For Pitching Summary
The list can go on, but as with any pitch, it needs to be short and succinct.
If you're interested in reading more about pitches: